Get weird with the eclectic TacoTuesday.com team as they spill the beans, sauce and an occasional margarita with chefs, celebrities, and friends.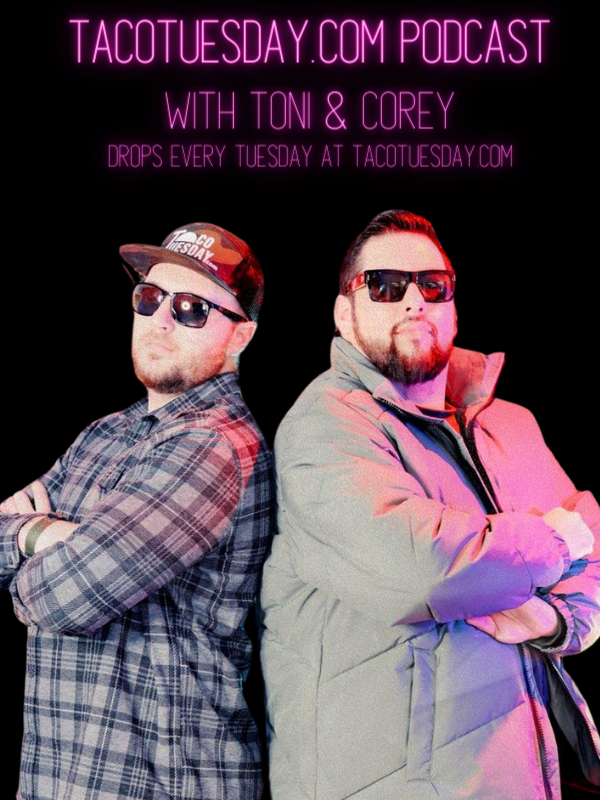 January 24, 2023 – Americans eat 4.5 billion tacos per year, that's 490,000 miles of tacos. With that many tacos being devoured they deserve their own search engine, so we created TacoTuesday.com. Now that search engine has launched a podcast on their new and improved website. Beginning next Tuesday,
January 31 st , you can tune in each Tuesday to watch co-hosts Toni & Corey as they keep it real with the coolest celebrities, chefs and trendsetters. This awesomely awkward and hilarious duo will get weird and have fun conversation over tacos and margaritas every Taco Tuesday.
"We're excited to learn and grow together as TacoTuesday.com's search engine expands and the Podcast grows. I love the realness of our podcast personalities! They aren't pretending to be something they are not, so what you see is the real deal and I love that. Watch them each Tuesday, they'll get better and better each week, and the conversation will get weirder," said TacoTuesday.com Founder Pamela Waitt.
New to the world of podcasts, Toni and Corey are excited to sit down and enjoy tacos and margaritas with unique personalities and have fun conversation every Taco Tuesday. The duo will also travel to restaurants for live broadcasts. "The happiness that Taco Tuesday brings to everyone is contagious and we can't wait to share that joy with taco lovers everywhere," said Pamela Waitt.
Check out TacoTuesday.com every Tuesday for the latest episode. Cruise over to the the About Us page to learn more about the entire TacoTuesday.com team. Follow TacoTuesday.com on Instagram, TikTok, Facebook, YouTube, and Twitter for more entertaining content and tips on how to live your best life while eating tacos and drinking margaritas. Sigh up to receive the TacoTuesday.com newsletter here to be invited to special events & chances to win merchandise.
About TacoTuesday.com
Visit TacoTuesday.com, the taco search engine for the planet earth. A free resource for taco obsessed humans to discover new restaurants, try new recipes and celebrate Taco Tuesday.