Irish Tacos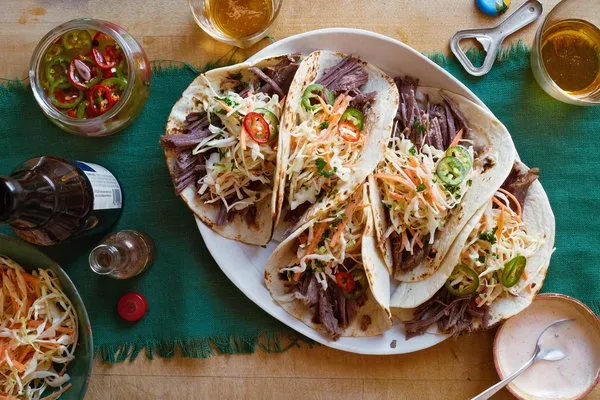 By Sam Sifton
Ingredients
2 to 2 ½ pounds corned beef
1 small head of green cabbage, cored and thinly sliced
3 carrots, peeled and sliced into julienne
1 cup mayonnaise
3 tablespoons plain Greek yogurt or sour cream
3 tablespoons cider vinegar
Kosher salt and ground black pepper, to taste
1 ½ tablespoons hot pepper sauce, or to taste
12 to 16 flour tortillas, warmed
Sliced fresh or pickled jalapeños
Directions
Warm the corned beef in its cooking liquid or wrap it in foil and set on a sheet pan in a 350-degree oven for 20 minutes or so.
Make the coleslaw: Mix cabbage and carrots together in a large bowl.
In a separate bowl, whisk together mayonnaise, yogurt or sour cream, cider vinegar, salt, pepper, and hot pepper sauce to taste.
Pour half the sauce over the cabbage and carrots and toss to coat thoroughly. Season to taste. Reserve remaining sauce.
When the corned beef is hot, remove from liquid or foil and use two forks to shred it. Serve with the warmed tortillas, sliced jalapeños, the slaw, remaining white sauce and some hot pepper sauce.
Follow our Social Media

Recent posts

Skip to content