Starr Barbecue, with its brightly colored exterior and an interior packed with memorabilia from years gone by has all the makings of a classic Texas 'cue joint. Here you can find wedges of pan de campo—a cakelike cowboy bread baked in a Dutch oven—served with a heart-stopping mound of butter. And the barbecue comes wrapped in tortillas just as often as it's served on a tray. It's with these tacos that Starr truly shines.
Starr Barbecue excels when it focuses on its border roots, using fresh ingredients and beloved brands. The mac and cheese is made with Velveeta. Some snobby gourmets might turn up their noses at that, but Texans know that the traditional, comforting queso con chile dip requires Velveeta. Starr Barbecue also serves cheesy birria de res tacos with stewed brisket in a birria broth punctuated with ancho, pasilla, and guajillo chiles. Small cups of the strong-flavored consommé and a salsa roja whose spice flares up in the back of the throat are served alongside four tacos in a basket lined with red-and-white checkered paper. The tacos are fragrant, juicy, and oozing with mozzarella cheese, a common Mexican American substitute for expensive Oaxacan quesillo. Also, Gonzalez knows that traditional birria is made with goat. Goat is popular in the Valley, as butterflied, spit-roasted cabrito al pastor, but Gonzalez insists that because Starr is a barbecue joint that smokes brisket, brisket is what should be in her birria. I also liked the chewy, heartwarming charro beans served in a small Styrofoam cup.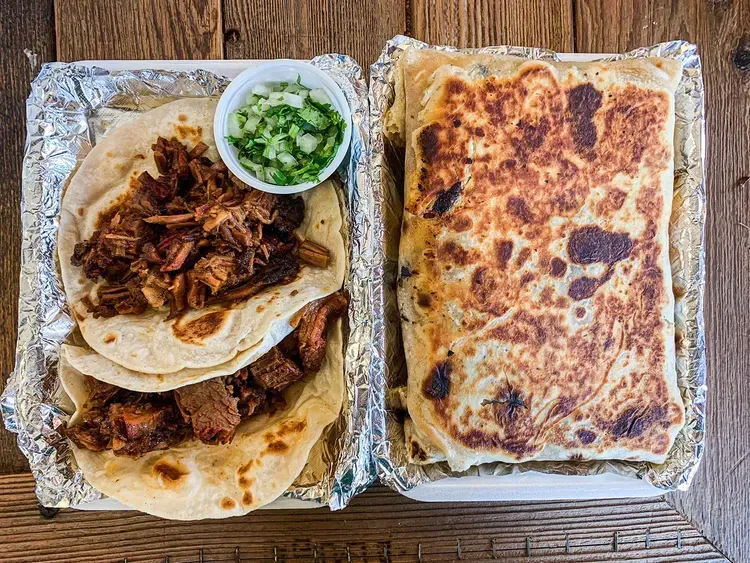 The saucy smoked brisket tacos, nestled in house-made flour tortillas, are even better than the birria. The meat is juicy, while the sauce balances sweet and spice. Best of all is the flattened, rectangular burrito. Dark-spotted with swooshes of brown created from time on the flattop, the behemoth fits tightly into a 8¼-by-5¾-inch foil-lined Styrofoam meat tray. Cut into quadrants, the exposed interior shows the same saucy chopped brisket mixed with refried beans and mozzarella. The components work harmoniously in every bite.
Starr Barbecue
1300 W Main St. Rio Grande City, TX 78582
Phone: 956-488-0555
Hours: Monday to Friday 11 a.m. to 3 p.m